0
Award-Winning Blues Legend Billy Branch Coming to the Quad-Cities
December 30th, 2021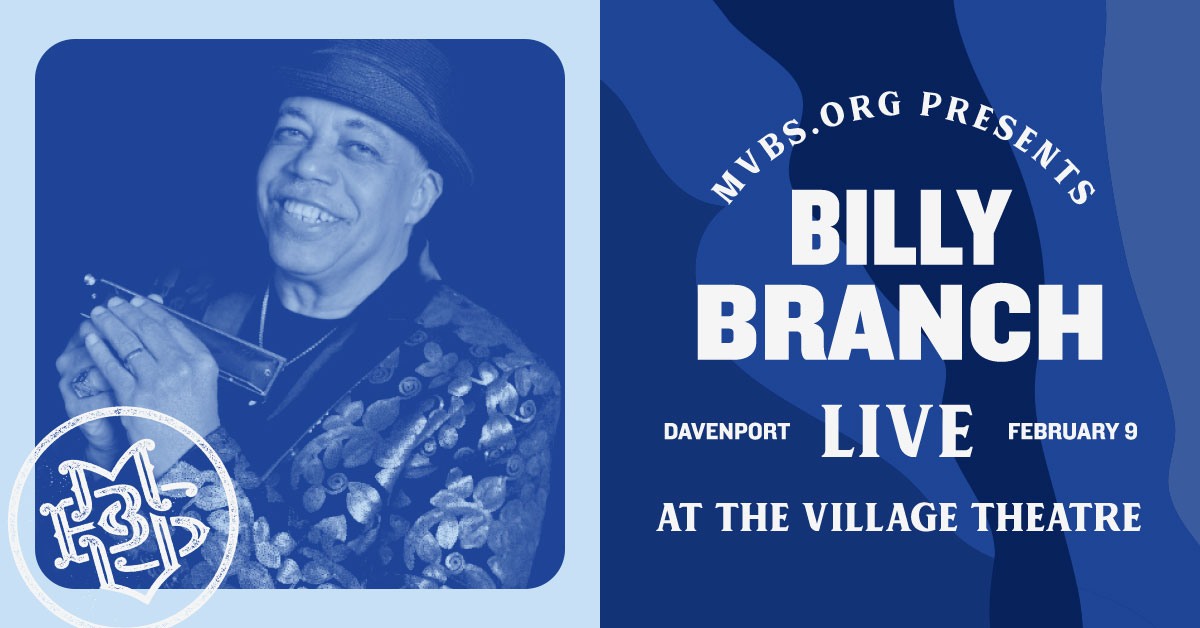 by David Klockau
Billy Branch will be the resident artist for the first 2022 Mississippi Valley Blues Society (MVBS) Blues in the Schools program from February 7th – 10th. Since 1990, the Blues Society's educational community outreach program has introduced the history and cultural significance of American Blues music to QC area K-12 students and has become an integral part of area music teachers' curriculum.
"We are fortunate to have the Mississippi Valley Blues Society in our community. The artists they bring into our schools/community are not just outstanding performers. These artists are great educators that teach about their genre of music and their craft."
— Mara Goodwin, General Music Teacher, Ridgewood Elementary, Rock Island.
Billy Branch will also appear for an MVBS fund-raising event at the Village Theatre, in the Village of East Davenport on Wednesday, February 9th. Advance tickets are $10; $15 at the door, MVBS members, $8 in advance, $12 at the door. Doors open at 7:00 pm. The show starts at 8:00 and ends at 9:30.
Tickets are available for purchase here!
February is Black History Month, and Blues music was created within African American culture and became the rootstock of all popular American music. "Very simply, the Blues is African American Folk Music" said Kevin Burt, award-winning touring Blues artist, and Iowa Native.
Billy Branch was discovered by Willie Dixon, the "father of modern Chicago Blues," while Billy was still in college. Willie encouraged Billy to finish his college education, which he did, but instead of going to law school after receiving his political science degree, Billy began touring with the Willie Dixon Chicago All-Stars. This gave Billy the unique opportunity to travel and work as an understudy for the legendary Carey Bell who was planning to leave the All-Stars and form his own band. When Carey took his leave, the young Billy Branch took his place, touring with Willie Dixon for 6 years.
Since those early days, Billy has played on over 150 different recordings and recorded with Willie Dixon, Johnny Winter, Lou Rawls, Koko Taylor, Eddy Clearwater, Honeyboy Edwards, Syl Johnson, Lurie Bell, Lonnie Brooks, Ronnie Baker Brooks, John Primer, and Taj Mahal, just to name a few. In addition, he has received three Grammy nominations. He has won multiple W.C. Handy Awards from the Blues Foundation, an Emmy Award, an Addy Award, two Chicago Music Awards, and numerous humanitarian achievement awards. Billy Branch has truly become the ambassador of the Chicago Blues.
Billy is also a Blues education pioneer and has taught literally thousands of children around the world. His internationally recognized "Blues in Schools Program" is committed to teaching both young and old about the Blues as the roots of America's music. He has brought his interdisciplinary program to Europe, South America, Asia, and most recently to Mexico where he taught his two-week program in Spanish. In addition, he teaches in the Grammy Museum Music Revolution Project.
The mission of the Mississippi Valley Blues Society is to ensure the future of a uniquely American art form by fostering greater public appreciation through performance, education and preservation of the Blues Heritage.
Tickets are available for purchase here!
Posted in Dec 2021
You Ain't Getting
Out of here
without Singing
The Blues