0
You Gotta Pay Your Dues to Play the Blues
August 6th, 2021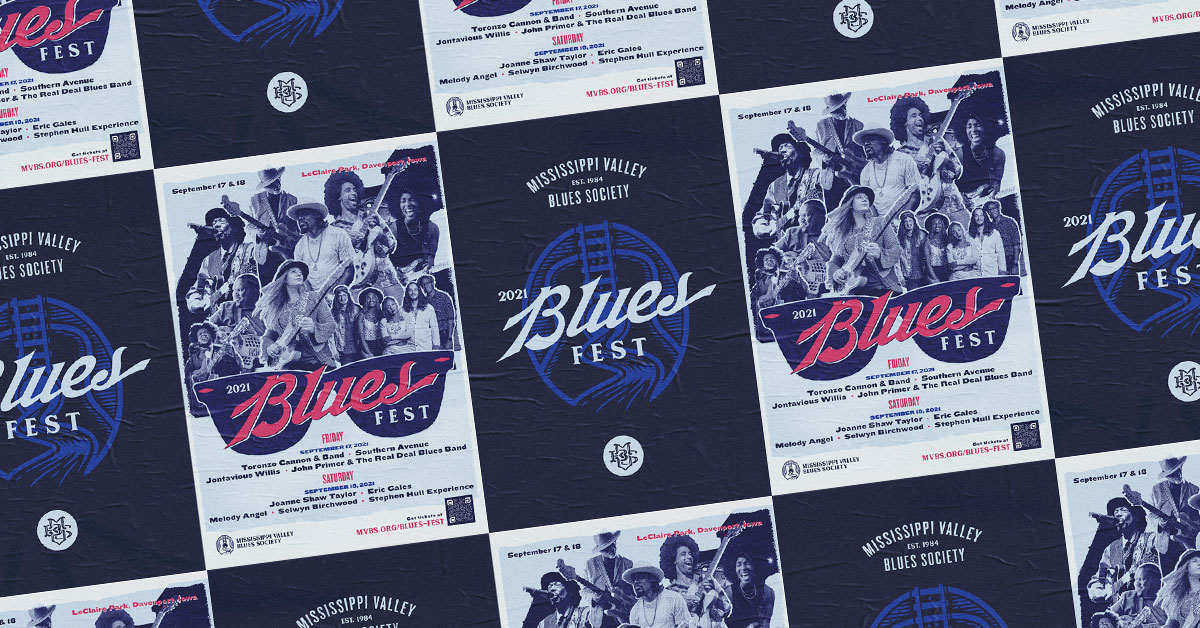 by David Klockau
The 2021 Mississippi Valley Blues Festival will be happening 9/17-18 in LeClaire Park Davenport, and it wasn't easy. The U.S. had seen cyclical resurgences of Blues music popularity over the past 70 years, one of which happened in the mid 80's when the Mississippi Valley Blues Society was formed in 1984, and the first Blues Festival was held in 1985. And this decade may be the beginning of another Blues renaissance.
"After fighting Summer floods in downtown Davenport over the past decades and then a Pandemic in 2020, just pulling off this event for this year with an all-volunteer organization will be no small feat," said MVBS President Bob Clevenstine, "We've definitely paid our dues."
And more significant for the 2021 Blues Fest is the diverse, next-generation lineup of established and emerging, Blues-based artists. "We are very excited to offer one of the most culturally diverse lineups in many years," said Mark Tarnow, MVBS Festival Committee and BOD member, "And it is our goal to see that reflected in our audience." With exciting next-generation Blues artists such as Southern Ave, Melody Angel, Joanne Shaw Taylor, and Selwyn Birchwood.
For example, 2020 Grammy Nominee Southern Avenue is a boundary-breaking Memphis combo that carries the Southern soul legacy into the 21st century and beyond. And Melody Angel, a young self-taught guitarist from Chicago with a voice that will touch your soul and lyrics that accurately describe what it's like living in the world as a Black woman with songs like "In This America," "Keep On Knocking," and "A Woman's Blues." Blues legend Joe Bonamassa described Joanne Shaw Taylor as a "superstar in waiting" with artist endorsements from Derek Trucks, Susan Tedeschi, and Blues Legend John Mayall, who have all marveled at her talents. And Alligator Records recording artist Selwyn Birchwood is described by Rolling Stone Magazine as: "A remarkable, contemporary bluesman…a powerhouse young guitarist and soulful vocalist…a major player…highly recommended.
So, there you have it: A legends in the making line up of contemporary Blues artists. You don't want to be saying in 2022: Man, I wish I'd gone to last year's Bluesfest! Tickets are on sale now at mvbs.org/tickets.
Posted in Aug 2021
Upcoming Live Events
Kavanaugh's Blues Jam
→
Every Wednesday
Kavanaugh's Hilltop Bar & Grill
1228 30th St,
Rock Island
,
IL
You Ain't Getting
Out of here
without Singing
The Blues